Shinkō Matayoshi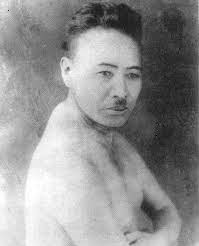 Matayoshi Shinkō was born in Kakinohana district, Naha, on 18th May 1888. The third son of Shinchin, he grew up in Shinbaru, near Chatan village. He studied bōjutsu and ēku-jutsu with his grandfather Shintoku. From Chokuhō Agena he learned sai and kama and widened his knowledge of ēku and bō. In Yomitan village he studied nunchaku, tunkuwa, kurumanbō and kuwa with master Irei Okina Shin'ushi. 
A Chinese merchant, Wu Xian Gui, called Go Kenki in Japanese, shared his knowledge of the White Crane style with Shinkō. 
In 1905 he left Okinawa for Hokkaido to enter China through Manchuria. In Manchuria he joined a group of nomads. It is said that they taught him how to ride a horse, how to use a lasso, a sort of suruchin, and how to use other thrown weapons (shuriken). After some years with them Shinkō moved to Shanghai, where he practiced a form of Chinese Kenpo; then he arrived to Fuzhou city, where he was introduced to master Jin Ying (Kingai). Together with his martial studies, from Kingai he also learned acupuncture, medicinal Chinese moxa practices and herbal medicine. 
Shinkō returned to Okinawa between 1910 and 1918. In 1915 he was invited to demonstrate Kobudō in Tōkyō, it probably was the first demonstration of Okinawan Kobudō on the Japanese mainland. Around 1920, he settled once again in Okinawa.  
During this time he trained with Yamani Chinen, Ryōkō Shiishi and Chojo Oshiro, learning some new Bō techniques. In 1921, he participated in a demonstration of Ryūkyūs martial arts at the Shuri castle in honor of Prince Hirohito. In 1928 Shinkō participated in a demonstration in memory of Emperor Meiji in Tōkyō as an Okinawan prefectural representative; he showed kama and tonfa techniques.  
Shinkō also got married during this period; his daughter Kimiko was born in 1919 and his son Shinpō in 1921. Around 1930 he came back to Fuzhou to resume and widen his studies with master Kingai, especially on weapons techniques: tinbē, nunti, sansetsukon and suruchin. Shinkō returned to Naha in 1934 and continued working as traditional Chinese medicine doctor. He managed three dōjōs: in Naha, in Chatan, and in Kadena.  
He was deeply respected in the Okinawan martial arts community, earning nicknames such as Shinbaru Mateshi (Matayoshi of Shinbaru) and Kama nu ti Mateshi (Matayoshi of Kama). He died in May 1947.